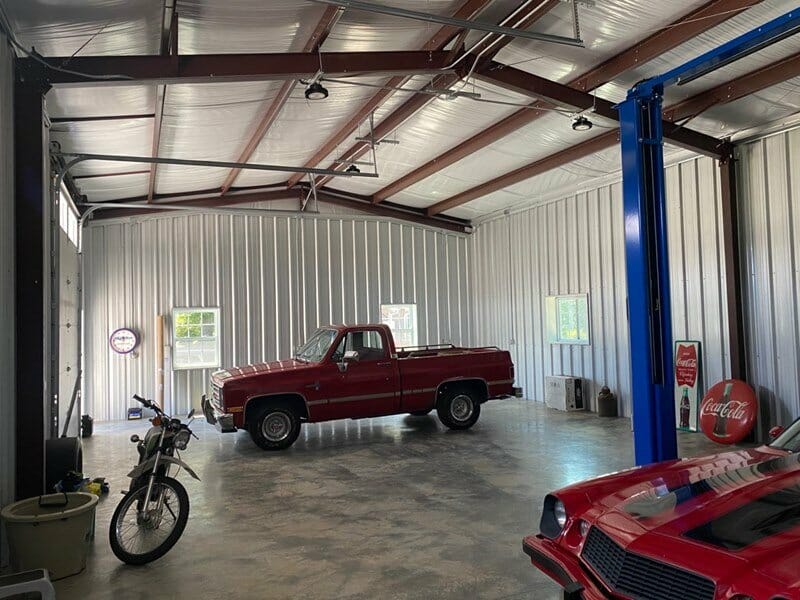 Unleashing the Potential of Steel Shop Buildings
Steel shop buildings are versatile structures used for a wide range of purposes – from commercial retail spaces to storage facilities and metal garages. These buildings offer more than just a shell for your operations, they are an essential component of your business, providing a safe and reliable environment for your work to flourish.
So, why do steel structures make such excellent building materials? First, durability is a key feature of steel. It can withstand extreme weather conditions and resist wear and tear, making it a trusted choice for long-lasting shop buildings. Second, steel shop buildings are cost-effective.
They require less maintenance compared to traditional structures, saving you money over time. Finally, steel shop buildings are adaptable. Whether you need to expand your storage space or transform your commercial shop layout, steel buildings can easily accommodate these changes.
Nurturing Creativity with Steel Building Shop Ideas
A steel building doesn't have to be plain or mundane. With a little creativity, you can turn your building project into a masterpiece. Innovative steel building shop ideas can infuse character into your structure, making it stand out.
Imagine the possibilities of customization for your steel shop buildings. From color choices to the design of windows and doors, the sky's the limit. A vibrant and unique steel building can attract more customers and provide an inspiring work environment.
Take inspiration from various metal building ideas. Maybe you need a commercial metal building that exudes professionalism and elegance. Or perhaps, a rustic and robust storage space that aligns with your brand's identity. Steel allows you to bring these visions to life, combining aesthetics with functionality.
Maximizing Commercial Spaces with Steel Structure
Steel shop buildings are not limited to personal use or storage. They also play a pivotal role in commercial spaces. Commercial metal buildings are cost-effective and customizable, making them an ideal choice for businesses looking to optimize their operations.
The durability of steel guarantees a reliable space for your business to grow without worrying about the structural integrity of your building. Building consultants often recommend steel for commercial buildings due to its versatility and the potential it offers for customization and expansion.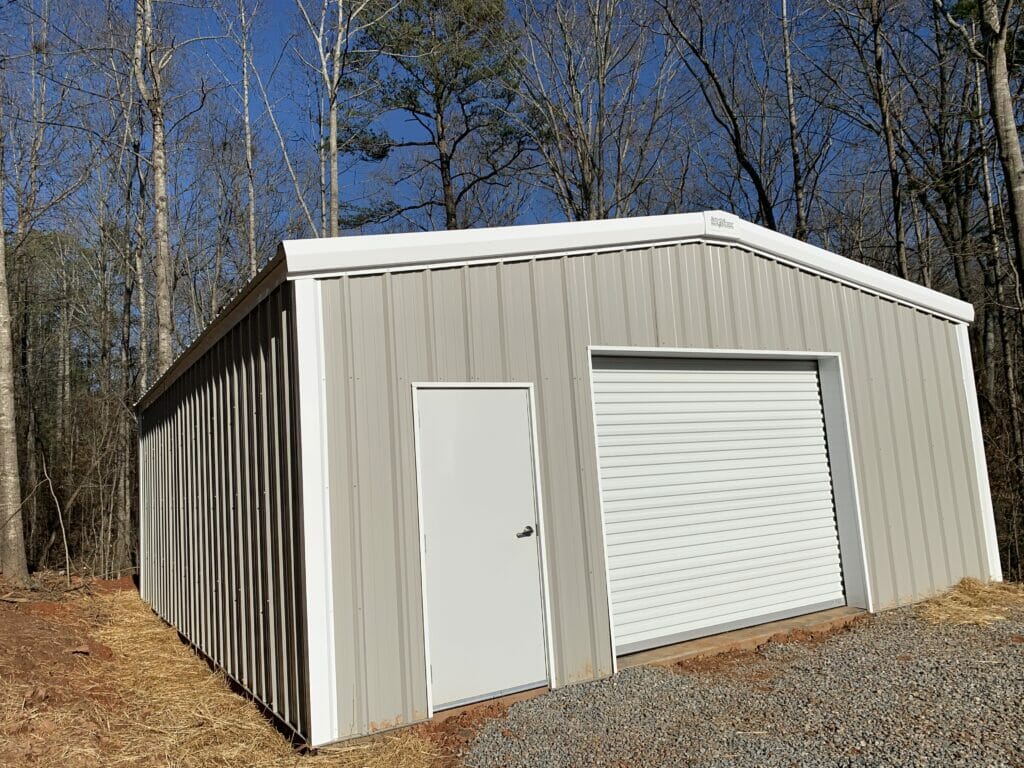 Expanding Your Space: Steel Buildings for Additional Storage
When space seems to shrink as your business grows, steel buildings come to the rescue, providing much-needed additional storage. Steel shop buildings can be custom-designed to fit your storage needs, with customization options for everything from size to internal layout.
Imagine maximizing your storage space with high-ceiling designs or clever partitioning within your steel shop building. With steel, you can create a space that's efficient and organized, keeping your operations running smoothly.
Steel storage buildings also offer unbeatable durability and security. These structures can stand up to harsh weather and are resistant to pests and fire, ensuring your valuable assets are well protected. Plus, with the ability to customize your steel building, you can design security features to fit your specific needs.
Exploring the Comfort of Climate-Controlled Steel Buildings
A steel building isn't just about providing a safe space for your goods or services, it's also about creating a comfortable environment. With climate-controlled interiors, steel buildings can maintain a steady temperature and humidity level, no matter what the weather's like outside.
Steel shop buildings are robust structures that can withstand heavy snow loads, high winds, and other harsh weather conditions. However, the comfort inside remains uncompromised. A few tips to maintain the interior climate include proper insulation, ventilation, and choosing a heating or cooling system that fits your building's size and your location's climate.
This climate control isn't just about comfort, though. It can also increase your steel building's versatility, making it suitable for a wider range of uses, from sensitive storage needs to comfortable retail spaces.
The Ultimate Building Kit: Steel Shop Building Packages
Picture this: a complete kit with everything you need to build your steel shop, delivered to your site. That's what a steel shop building package is – a convenient solution that includes all the prefab metal components you need to construct your building.
These building kits offer a host of benefits. For starters, they simplify the construction process, removing the need to source various components from different suppliers.
This not only saves you time but also ensures all parts fit together seamlessly, contributing to a sturdy, high-quality structure. Plus, by packaging everything you need into one kit, you can often save on costs compared to purchasing items individually.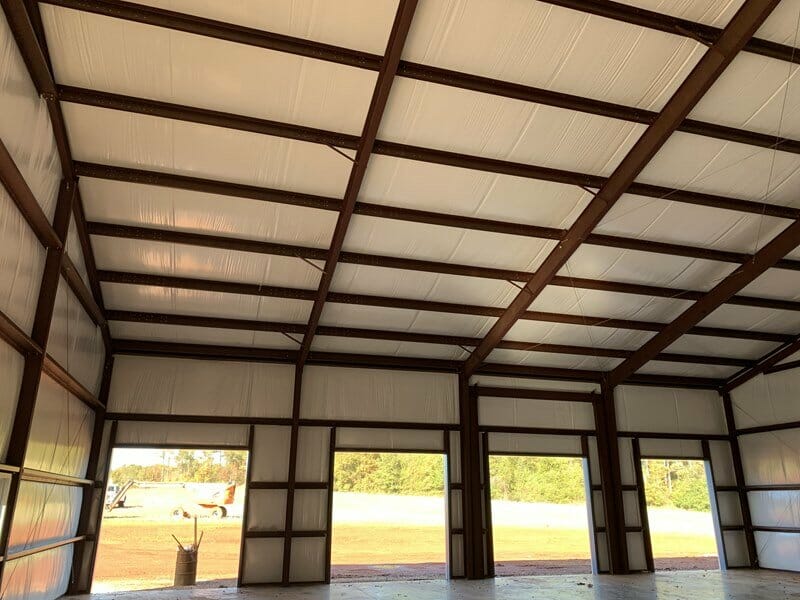 Customizing Your Steel Shop Building: The Path to Success
As we wrap up, let's circle back to a key point – the incredible versatility and customization possibilities of steel shop buildings. These structures can be tailored to your exact needs, whether it's a specific layout for maximum efficiency, or unique design elements to capture your brand's style.
We encourage you to explore creative and functional steel building shop ideas that can help your business stand out and succeed. Remember, steel shop buildings are more than a cost-effective, adaptable, and durable solution for various needs – they're an investment in your business's future.
So, whether you're dreaming of a modern retail space or a spacious storage facility, let steel be the foundation of your success. With its versatility, durability, and cost-effectiveness, steel provides a strong and secure space where your business can grow.
Kickstart Your Project with Maverick Steel Buildings Today!
As we've explored, steel shop buildings offer a plethora of advantages for your business, from their exceptional durability and cost-effectiveness to the endless customization possibilities. Now, the ball is in your court. It's time to turn these insights into action and start building the structure you've always envisioned.
At Maverick Steel Buildings, we're here to help you every step of the way. Our team of experts is committed to providing top-notch service, guiding you from initial planning to the final build. With our high-quality steel building packages and hands-on support, we'll make your building project a breeze.
Contact Maverick Steel Buildings today and let us help you create a space that not only meets your needs but also surpasses your expectations. We can't wait to bring your vision to life!