8,000 Square Feet of Clear Span Space
Are you looking for a new 80×100 metal building? Maverick Steel Buildings provides expertly designed and economically priced 80×100 steel buildings that are extremely durable and low maintenance.
We have been in the steel building industry for many years and are dedicated to providing our customers with the best quality metal building kits at an affordable price. Our 80×100 steel buildings are expertly designed, easy to assemble, and can be customized to fit your specific needs.
The Best 80×100 Steel Structure for You
You need a new 80×100 building, but you're not sure what's the best option for you. Building a new steel structure can be a daunting task. Not only do you have to worry about the metal building cost, but also what type of building is best for your needs.
Maverick Steel Buildings has the perfect solution for you. Our pre-engineered 80×100 metal building kits are designed with you in mind! They are engineered to meet the local building codes in your area and include all necessary components for quick and easy construction.
If you want a high-quality building kit that will provide you with many years of use, then look no further than Maverick Steel Buildings!
How Can You Use an 8,000 Square Foot Steel Building?
When most people think about using an 8,000 square foot steel building, the first thing that comes to mind is probably a large warehouse or industrial space. But there are actually many different ways you can put an 80 x 100 metal building to use.
Whether you need extra storage space, want a new garage, or need a workshop for your business, a steel building can be the perfect solution. Here are some great options for this size building:
Warehouses

Storage Facilities

Metal Garages

Manufacturing Plants

Car Dealerships
Riding Arenas

Aircraft Hangars

Churches

Schools

And so much more!
There are endless possibilities when it comes to using an 80×100 metal building kit. If you can dream it, we can help make it happen. Maverick Steel Buildings can help you design the perfect building for your needs.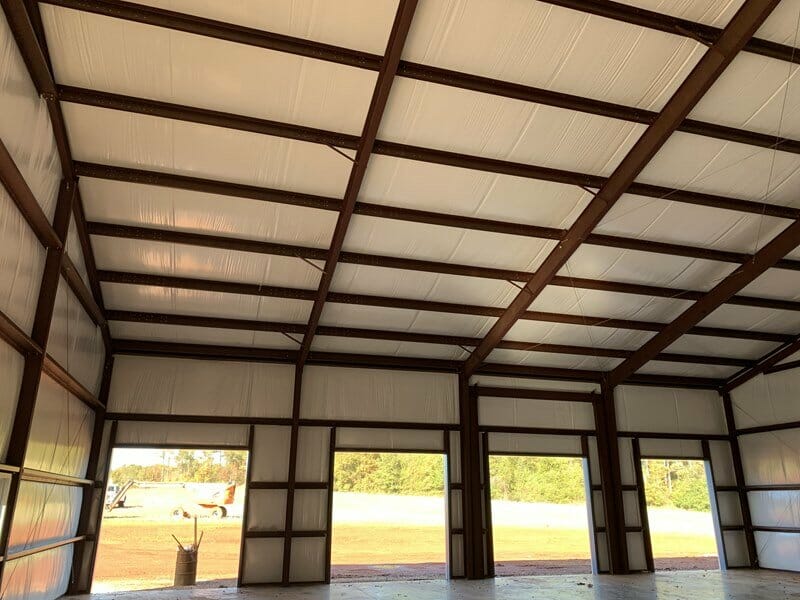 Why Choose a Pre-Engineered 80 X 100 Metal Building?
There are many reasons why pre-engineered metal buildings are such a popular choice. Steel buildings are both cost-effective and time-saving; they can be quickly erected in a fraction of the time as traditional construction methods, and they're far more cost-effective. Metal Building prices tend to fluctuate based on a number of factors including the cost of steel and local labor costs – just to name a few.
With Maverick Steel Buildings, you can be assured that you're getting the best building price possible.But that's not all – steel buildings are also incredibly durable and long-lasting. They require very little maintenance and can withstand even the harshest weather conditions including driving rain and heavy snow loads.
Build Your Next Project With a High Quality Steel Building Kit from Maverick Steel Buildings
80×100 Metal Building kits from Maverick Steel Buildings are the perfect choice for anyone looking to build a new warehouse, riding arena, or aircraft hangar. This 80×100 metal building kit is designed and engineered by our team of experts to provide you with a high-quality steel structure that will last for years to come. If you're interested in learning more about 80×100 pre-engineered steel buildings don't hesitate to reach out ot our team of experts today!