At Maverick Steel Buildings, we offer quality service with a personal touch. Collaborative involvement is prioritized in every step of the planning and building process because we recognize the power of quality customer interactions and connecting with clients. The team at Maverick Steel Buildings will work with you to accomplish your goals.
Built With Integrity
Maverick Steel Buildings provides top of the line pre-engineered metal buildings. We take pride in the quality of our products and source material from only the best suppliers. Our in-house engineering personnel follows stringent guidelines based off the coding requirements for your shipping location. Our team at Maverick Steel Buildings is dedicated to providing our clients with high-quality steel building kits and the best customer service in the industry.

3x faster turnaround with State of the art software
Utilizing the latest in top of the line software & connections, our in house engineering team is able to reduce the turnaround time for drawings by up to 3x the industry standards. Depending on the complexity of your project, these drawings can be provided in about a week compared to 4 or even 10 weeks from leading competitors. This gives you plenty of time to complete the permitting process and have your concrete foundation poured and cured.
We source from the best
Here at Maverick Steel Buildings, we follow the most stringent criteria when purchasing our materials. Our experienced and qualified manufacturers are certified by the American Institute of Steel Construction and we only purchase the highest quality and cost-efficient material available. We have spent a great deal of time developing a strong working relationship with our manufacturers. This allows Maverick Steel Buildings to reduce our overhead expenses and pass those savings along to our valued clients.


Custom Results For you
All metal building kits provided by Maverick Steel buildings are fully customizable. Clients are able to choose the length width and height of their building, along with how many and what kind of windows and doors they will need. Choose from over 45 color options so you get exactly what you've been looking for! Maverick Steel Buildings will work hard to help you design a custom metal building catered exactly to fit the needs of your application. 
How we Are different
Maverick Steel Buildings utilizes an economical and client-focused approach to providing high-quality pre-engineered steel building kits to our customers. Our team works closely with you to determine the exact specification for your project. You know what you want, and we know how to help you get it. Here at Maverick Steel Building we understand how hard you have worked and we are honored to become a loyal part of your team.
Taylor Satterfield
Growing up in the Steel Building industry, Taylor Satterfield had the unique opportunity to witness all aspects of the job site, from start to finish. His family owned a construction company with an emphasis on metal structures providing him with foundational experience in this field.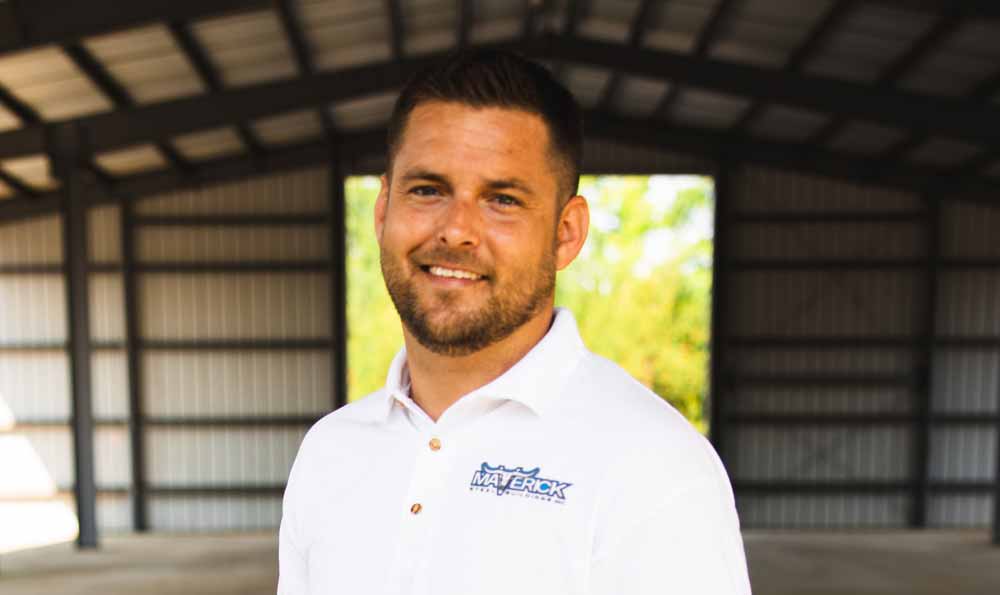 Hear From Our Satisfied Customers
We take great pride in a job well done. Many of our satisfied customers have taken the time to write about their experience with Maverick Steel Buildings. Here is what they had to say.
...All aspects of the project were superb examples of customer service and product quality. I now have a building I will enjoy as a workshop for many years to come. If you need a steel building done right the first time, call Taylor at Maverick Steel Buildings...