Prefabricated Metal Building Color Options
At Maverick Steel Buildings, we offer a wide range of pre-engineered metal buildings with various color options, so you get exactly what you're looking for that meets your vision! You are also able to customize almost every aspect of your building. Here we will discuss the various color options you can choose from for your steel building.
Color Schemes For Metal Buildings
Our color choices are designed to complement any use imaginable. From corporate or retail applications to workshop or RV Storage buildings – we have the right color combination to meet your needs. Select from a wide range of color choices in our standard and non-standard color options. There is a multitude of color combinations to find, and you are sure to discover what you are looking for.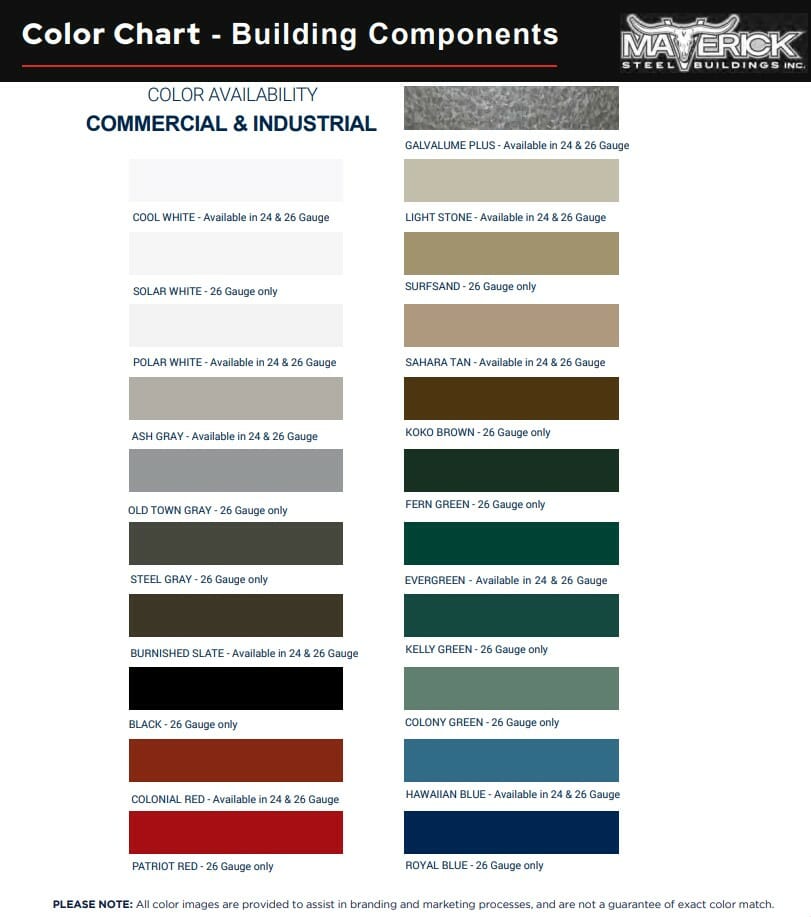 Choosing a color scheme for your project is an important aspect of your project, and may depend on how you intend to use it. For example, in industrial settings, our non-standard colors provide high visibility and safety color options designed for use in that industry.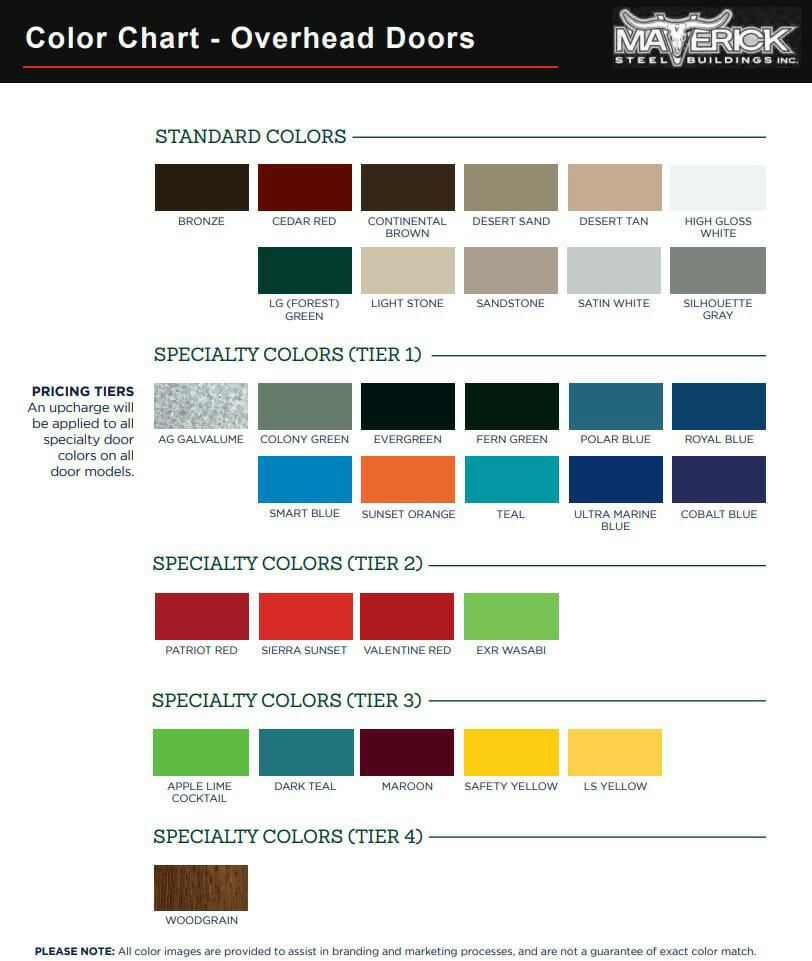 Maverick Steel Building Finish Options To Enhance Your Project
Our qualified team of experts is here to help you with any inquiries you may have about purchasing a steel structure from us. We make building buying easy by walking with you every step of the way. At Maverick Steel Buildings, we want to help you design a custom metal building catered to your wants and needs.
Click the button below to connect with Maverick Steel Buildings and get your steel building priced by an expert.
Why Choose Maverick Steel Buildings
Building Custom Metal Structures Is Our Specialty
Safety And Durability – Fire Resistant Metal Buildings Last A Lifetime
Cost Savings – Much More Cost-Efficient Than Traditional Wooden Structures
Simple And Cost-Effective To Expand When You Need More Space
Attractive Building Finish In A Wide Variety Of Options And Colors
Environmentally Friendly – 25-35% Of Our Materials Are Recyclable
Customizable For Your Agricultural Applications
Faster And Easier To Construct Than Traditional Methods
Low Maintenance – No Need To Paint Or Patch
100% American Made Steel – Supporting A Network Of American Businesses
Hear From Our Satisfied Customers
We take great pride in a job well done. Many of our satisfied customers have taken the time to write about their experience with Maverick Steel Buildings. Here is what they had to say.
...All aspects of the project were superb examples of customer service and product quality. I now have a building I will enjoy as a workshop for many years to come. If you need a steel building done right the first time, call Taylor at Maverick Steel Buildings...