STEEL BUILDING INSULATION FACTS AND FIGURES
Insulating your steel building is one of the most important steps to protecting your investment and extending the life of your steel building. Proper insulation will not only make your building more comfortable to be in, but it will also prevent the build-up of rust producing condensation.
WHY SHOULD I INSULATE MY STEEL BUILDING?
Adding insulation to your steel building kit will protect your building from moisture condensing on the inside of the wall panels. This moisture can cause damage to the items inside the building as well as the building itself.
WHAT IS THE BEST TYPE OF INSULATION FOR A STEEL BUILDING?
There are many insulation options to choose from, depending on your needs. From fiberglass blankets to loose-fill insulation – there is an option to meet the needs of your steel building. We'll go over the differences of the most popular choices below.
CLICK THE BUTTON BELOW TO CONNECT WITH MAVERICK STEEL BUILDINGS AND GET YOUR METAL BUILDING INSULATION PRICED BY AN EXPERT.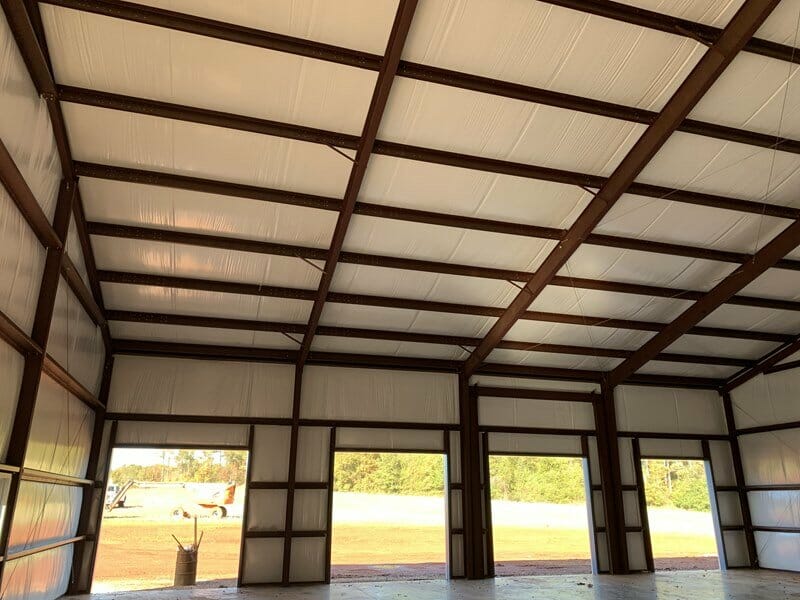 BENEFITS OF INSULATING YOUR STEEL BUILDING
 Prevent moisture build-up and corrosion

Conserve energy by reducing heating and cooling needs

Regulate temperature by reducing heat loss

Prevents nesting rodents, birds, and other pests

Increase sound absorption for loud workshops

Prevents condensation and rust

Prevents radiant heat transfer

Does not promote mold and mildew growth

Protects your investment while adding value to your property
INSULATION R-VALUE
The r-value of insulation relates to its ability to reduce heat transfer. Or, put more simply, it indicates the amount of heat that can flow through the insulation. Higher R-Values indicate more effective insulating properties. Your typical steel building kit insulation ranges from R-7 to R-30 depending on your climate.
STEEL BUILDING VAPOR BARRIERS
Your building's vapor barrier is an important factor in reducing the amount of moisture that builds up on the metal panels of your building. Depending on the climate where your building is located, a vapor barrier may be enough. However, in combination with insulation, you will experience a significant difference in temperature regulation.
CALCULATING HOW MUCH STEEL BUILDING INSULATION YOU NEED
We follow a specific mathematical formula to determine the exact amount of insulation needed to fully protect your steel building product. No need to worry about the finer details of calculating your insulation needs because our expert team of steel building specialists will calculate the exact square footage needed to cover the walls and ceilings of your building.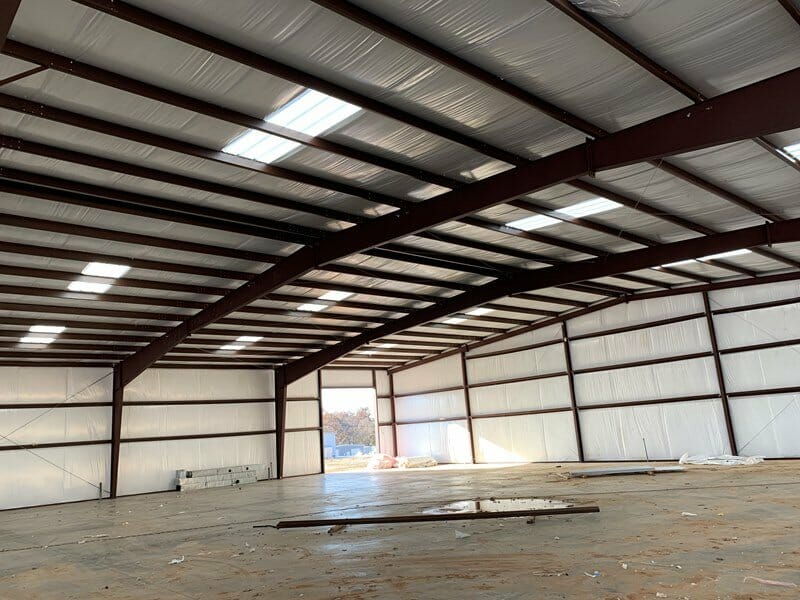 REFLECTED FOIL INSULATION
This style of metal building insulation works as a radiant barrier to repel the heat given off by the sun that works to cause a building to overheat. Most effective in very sunny environments reflected foil insulation is extremely simple to install with staples, glue, or nails.
FIBERGLASS INSULATION
Coming in with the least expensive price point, fiberglass blanket insulation is the most traditional insulation option. The rolls are often covered with a more attractive facing which improves the moisture reduction and is nicer to look at.
INSULATED PANELS
This option is created by sandwiching an insulating foam core between two formed metal panels. While this solution is generally more expensive than traditional insulation, metal panels can reduce the need for traditional rigid board or fiberglass insulation.
SPRAY FOAM INSULATION
This polymer, combined with a foaming agent is stored as a liquid and sprayed into every nook and cranny throughout a building. Particularly effective for insulating against very cold weather spray foam insulation is an excellent option for more northern locations.
RIGID BOARD INSULATION
This insulation option has a well-earned reputation as the most popular choice for steel building owners across the country. Rigid boards are an extremely effective way to insulate a metal building as well as dampen exterior noise.
INTERESTING NOTE: INSULATION CAN EXTEND THE LIFE OF YOUR STEEL BUILDING KIT BY DECADES DUE BY PREVENTING MOISTURE BUILDUP AND CORROSION.
BUILDING INSULATION BY MAVERICK STEEL BUILDINGS
Maverick Steel Buildings is your one-stop-shop for everything you need in one Steel Building kit – including insulation. Speak with one of our highly qualified steel building experts to learn more about how we can help you design your project. Reach out to our experienced team today to price your steel building kit and get started building your dream.
Why Choose Maverick Steel Buildings
Building Custom Metal Structures Is Our Specialty
Safety And Durability – Fire Resistant Metal Buildings Last A Lifetime
Cost Savings – Much More Cost-Efficient Than Traditional Wooden Structures
Customizable To Any Use – From Workshops To Aircraft Hangars
High Clearances – Perfect For Large Vehicle Storage And Sports
Low Maintenance – No Need To Paint Or Patch
Environmentally Friendly – 25-35% Of Our Materials Are Recyclable
Simple And Cost-Effective To Expand When You Need More Space
100% American Made Steel – Supporting A Network Of American Businesses
Attractive Building Finish In A Wide Variety Of Options And Colors
Faster And Easier To Construct Than Traditional Methods
Hear From Our Satisfied Customers
We take great pride in a job well done. Many of our satisfied customers have taken the time to write about their experience with Maverick Steel Buildings. Here is what they had to say.
...All aspects of the project were superb examples of customer service and product quality. I now have a building I will enjoy as a workshop for many years to come. If you need a steel building done right the first time, call Taylor at Maverick Steel Buildings...