High-Quality 100 x 100 Metal Building Kits
Maverick Steel Buildings is a leading manufacturer and distributor of metal building kits. Our 100×100 Steel Building option provides 10,000 square feet of column-free uninterrupted space with all-steel roof and wall panels. Engineered to withstand the most severe weather conditions, our prefab metal buildings are a great choice for any industry.
From North Carolina to Florida – we ship our prefabricated metal buildings throughout the Southeastern United States. Our team of designers ensures your building package meets all local building code requirements based on your zip code for shipping. Maverick Steel Buildings provides 100% customer satisfaction and offers affordable shipping throughout the United States.
Cost-Effective Prefab Buildings
So – how much does it cost to build a warehouse? The answer to this question is not as simple as it seems. There are a number of factors involved in answering the question, including how large your building is going to be and what kind of warehouse you want. Many business owners consider applying for a construction loan to offset finance costs – although not all take this route.
A new warehouse structure must protect a company's assets by safeguarding both short- and long-term materials and products. When it comes to picking material materials for a new warehouse, a business owner must carefully consider his or her options.
The type of material you choose has a big influence on the long-term costs. Builders today agree that going with all-steel construction is your most cost-effective option long term. Metal buildings are strong and durable as well as resistant to fire, heavy wind, pests, mold, and other destructive forces.
Below we will go over the 9 most important factors that will affect the cost of a new warehouse build. Take a close look at each factor so you are able to give a good estimate of the cost to expect.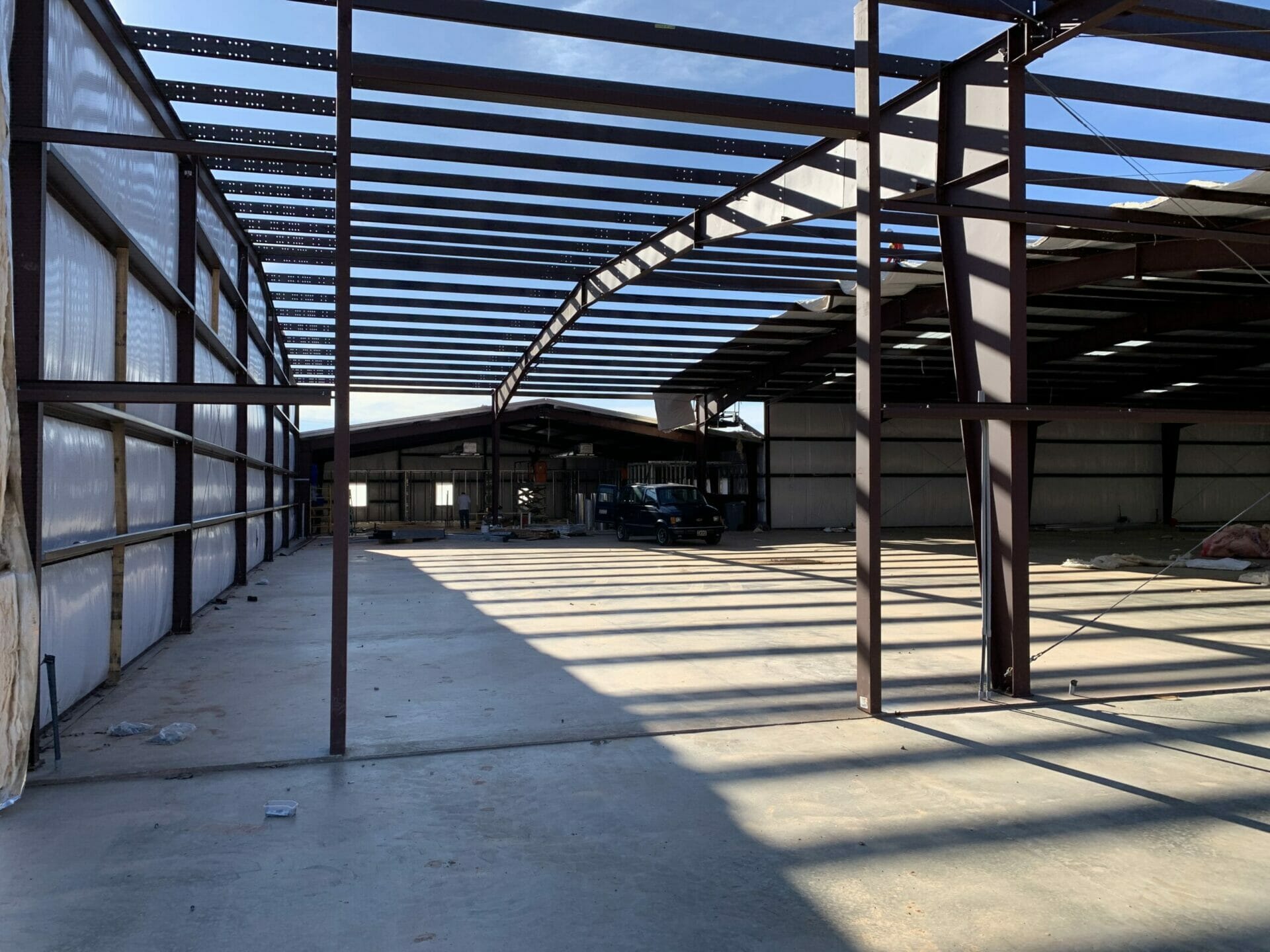 What About Steel Building Costs?
There are so many factors that go into pricing a metal building kit including building size, accessories like windows and doors, roof styles, shipping location, and so much more. Not to mention the ever-fluctuating price of steel. This makes it next to impossible to provide an accurate estimate for the cost of a steel building without first knowing all the details about your project.
Getting your wants and needs in order is a great place to start when requesting a steel building quote. Decide on the building's height, width, and length. Then think about what your budget is for this project – don't forget to include any local or state requirements based on where you're located! Maverick Steel Buildings has a team of steel building specialists that can help guide you through every step of the process including calculating all costs associated with your 100×100 metal building.
10,000 Sq. Ft. Steel Building Kit Designed for You!
If you're looking for a high-quality, cost-effective 100×100 metal building kit that will meet all local building code requirements no matter where you are located – then Maverick Steel Buildings is your solution. We offer prefabricated steel buildings to fit any industry or need including warehouses, distribution centers, manufacturing facilities, and so much more.
What sets us apart from other companies out there? Our team of designers ensures your package meets all local regulations before shipping. Plus – our buildings are made of only the highest quality 100% American-made steel. Contact our experts today if you have questions about pricing or would like help determining which base package best suits your needs!