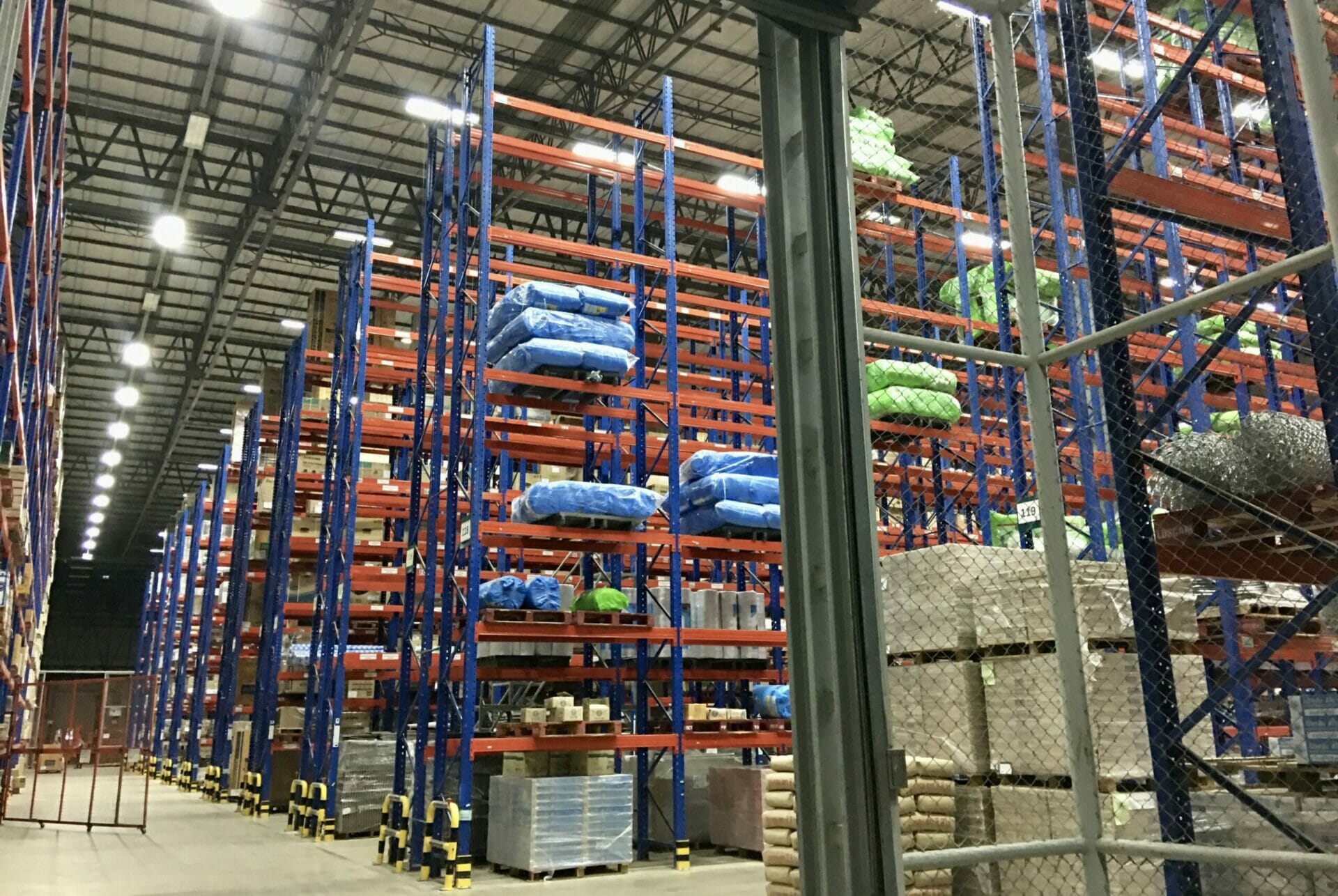 The Simple Guide to Building a Warehouse
Warehousing can be as simple as a storage facility for stock overflow to an integral part of a business's production flow. It also happens to be a substantial contributor to the US job economy, providing more than 2 million jobs. For businesses, the appeal of knowing how to build a warehouse stretches beyond job creation.
Why Businesses Want to Build Warehouses
A warehouse offers more than just a simple stock solution. It's an important business tool that helps businesses leverage their stock and manage stock risk.
Warehousing allows for proper shelving and storage solutions, which can protect the integrity of the products
Owning a warehouse allows freedom of choice in terms of when to sell, as you're able to hold on to your stock longer if needed
Warehousing solutions can include climate control, additional security, fireproofing, and additional elements to keep your stock secure
You have the option to purchase more stock when the price is right, as you have more storage space
Building your own warehouse increases your assets and reduces the amount of rent you'll have to pay to use someone else's warehouse or storage facility
Warehousing offers that extra layer of control over your stock and allows you to have stock in hand when you need it. It's easy to understand why a business may want to invest in building its own warehouse. Understanding the different factors that may affect such a build may come in handy.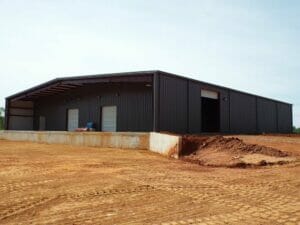 What Are the Different Types of Warehouses?
Before approaching a draftsperson to draw up plans for your warehouse, it's important to decide on the type of warehouse you'd like to build first.
Private Warehousing
If you have the capital and the land to build your warehouse, it's likely it will fall into the private warehousing category. While this is an expensive route as you'll be responsible for the cost of the build, operations, and upkeep, you also have better control over its use. For instance, you may choose to use the entire warehouse yourself for your own business operations, or you can allocate sections to rent out to other businesses.
Bonded Warehouse
A bonded warehouse is tightly regulated by the government. However, it can be a lucrative business opportunity if your warehouse meets the criteria. This warehouse is for the purpose of storing goods that require customs inspections.
Smart Warehouse
Smart warehousing makes use of technology to automate the entire warehousing process, from order fulfillment to stock takes. It uses robots and artificial intelligence (AI), and while this reduces human error and safety risks, the setup costs of these warehouses can be costly.
Cold Storage Warehouse
These warehouses are climate controlled and allow you to store perishable items. It's also used to store high-value items for insurance purposes, such as artwork and jewelry. These are costly to set up and maintain but can reduce the risk of stock loss to damage caused by humidity or heat.
On-Demand Warehouse
You can build a private warehouse and portion off a section to make it available for on-demand warehousing. This type of warehousing allows online companies a short-term solution where they don't have to rent warehouse space if they don't need it. It's also a good solution for seasonal businesses that may not have stock throughout the year.
Distribution Center Warehouse
If you're building a warehouse with the sole purpose of being a depot of sorts for other businesses, it's likely that you're building a distribution warehouse. These types of warehouses may offer different storage solutions and contracts to their varied clientele. For instance, your warehouse may include a section that's earmarked for cold storage. While this might offer multiple streams of income, the initial outlay, operation, and maintenance costs of the warehouse are for your pocket. Other types of warehouses include consolidated warehouses, cooperative, and government warehouses.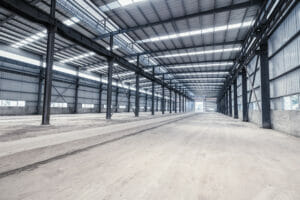 Average Cost to Build a Warehouse
There are many factors to consider when building a warehouse, and no two warehouses will have exactly the same construction cost. On average, you might find that it can cost from as little as $10 to over $30 per square foot to construct a warehouse. Factors that affect the cost to build a warehouse include:
The labor and materials used, such as steel buildings vs wood or brick-and-mortar
How many square feet the building will be
The foundation required
The height, shape, and pitch of the roof
Whether the materials need to be delivered
If you're building from scratch or require a prefabricated warehouse
The types of fittings required, such as the number of doors and windows. It's worth noting that doors and windows can cost up to 30% of the entire build of the warehouse.
Other factors to consider include whether you need additional fireproofing, secured sections that require additional builds such as cold rooms, offices, or laboratories, and food-safe applications such as flooring. For instance, if your warehouse stores paperwork for financial institutions and attorneys, you'll need additional temperature controls and specialized fireproofing. Storage for pharmaceutical companies might require sterile environments.
Building a warehouse is a significant investment, and there are a number of costs associated with the construction process. One of the biggest costs is the construction loan itself. In addition, there are often finance costs associated with taking out a construction loan. Other costs include soft costs such as architectural fees and permits, as well as long-term costs such as property taxes and insurance. When considering the construction of a warehouse, it is important to factor in all of these costs so that you can make an informed decision about whether or not to proceed with the project.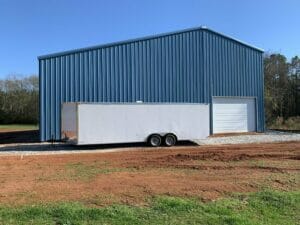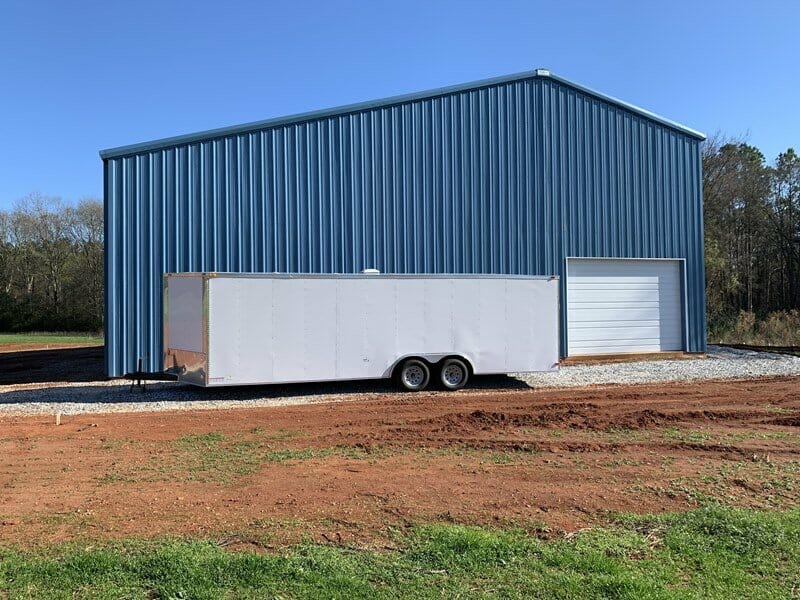 Project Team Needed to Build the Warehouse
When you build a warehouse, you'll need a team of professionals to ensure the build is successful and meets your business's needs.
Logistics Expert – Before you even set out to find a piece of land for your build, you'll want to know what's required for the build. Find a logistics expert that specializes in the field for your specific warehouse.
Commercial Realtor – If you haven't earmarked land yet, a commercial realtor can source a location that meets your warehousing requirements.
Surveyor – The surveyor will determine whether the land is suitable.
Architect – If you're looking for a bespoke warehouse solution, an architect will need to design this for you.
Builder – It's important to work with a builder that can construct warehouses, considering their unique support requirement. Some building companies also have prefabricated warehouses, and only assembly is required.
Construction project manager – A project manager is a key individual that ensures all the components of the build come together and that the teams communicate effectively. The project manager also needs to be experienced in terms of building regulations to ensure that the build takes place according to code and that the relevant inspections and signoffs take place.
Permits and Approvals Required to Build a Warehouse
Each state, county, and municipality might have different requirements when it comes to permits, licenses, and approvals. Usually, the coordination of these is done by the construction project manager. These are some of the more common ones:
Commercial Construction Permit
These include permitting by the municipality, and the construction company often provides the required information. As the owner of the property, you will need to ensure the documents are correct as you are still the responsible party.
Site Plan Approvals
These approvals often require site plans, landscaping, parking, and stormwater management. These plans are usually submitted by the architects and include the building plans. It also needs to detail elements such as electricity, plumbing, HVAC, and fire safety. Specialized warehouses may have additional requirements such as licenses for those that store food products or medical supplies.
Building Permits
When constructing the warehouse, you will need several permits. These include a general construction permit, HVAC, electric, plumbing, and fire safety.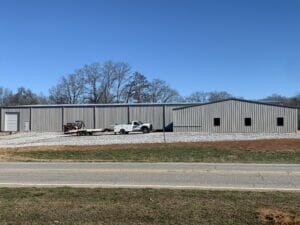 Energy Efficiency of Warehouses
To build an energy-efficient warehouse, it's worth looking into the type of lighting, ventilation, and building materials used. Simple planning changes such as non-reflective surfaces can reduce heating costs, while strategically placed doors and windows can bring heating or cooling costs down.
How to Build Your Steel Warehouse
Once the research and budgeting part is over, it's time to construct your steel warehouse. Maverick Steel Buildings uses materials that are between 25% to 35% recyclable and relies on only 100% American steel in its builds. Call today to price your steel warehouse with our team of steel building experts.