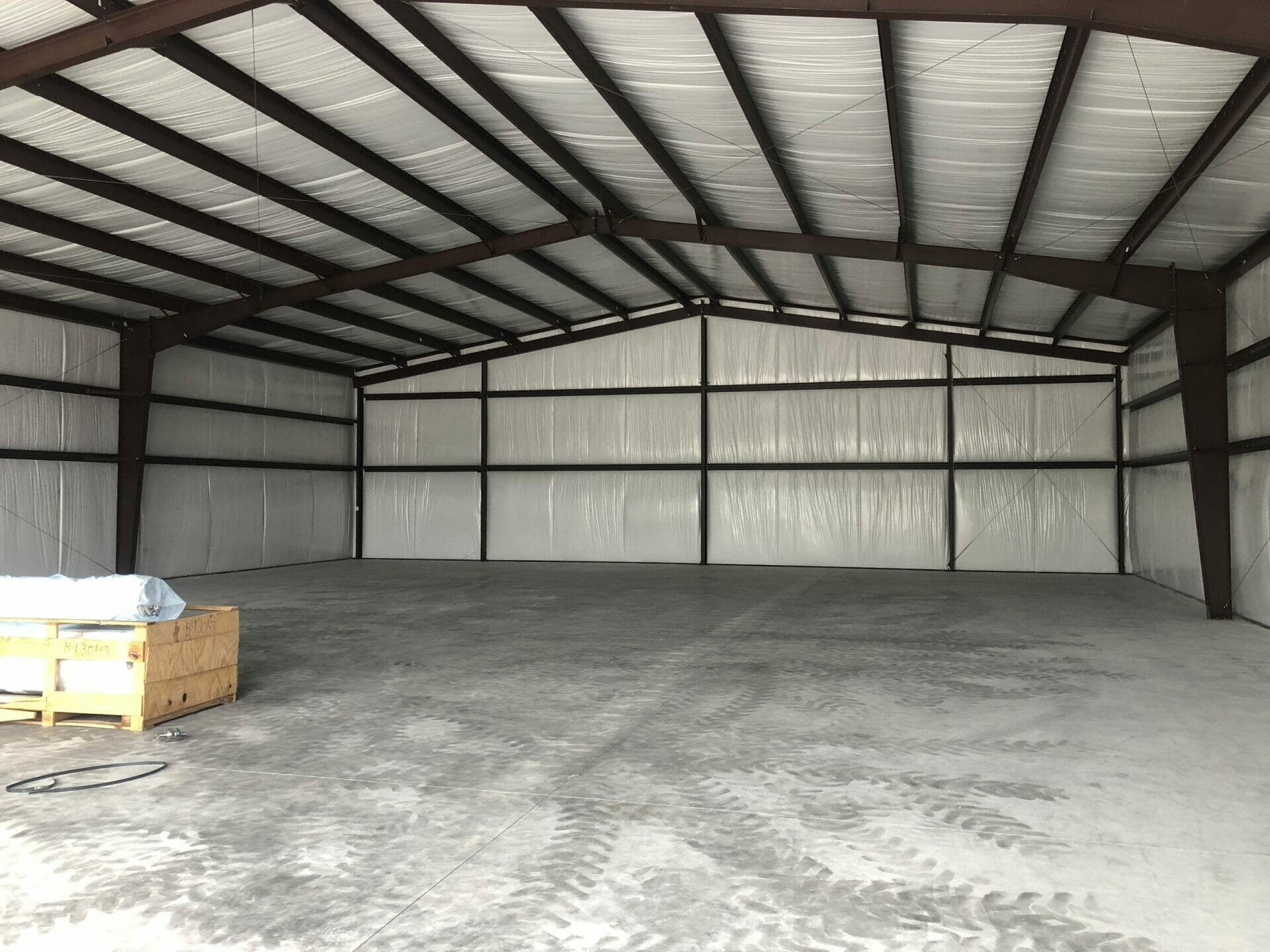 Our 100% American made steel buildings are a cost and time-efficient way to complete your building project. Make sure you're getting the most bang for your buck by considering the potential flooring for steel building kits. When you are deciding the finishing design touches for your project it is important to examine your options for durable metal building flooring.
DURABLE FLOORING OPTIONS
The scratch resistance and durability needs of your metal building's flooring will depend on its intended use. A garage or workshop will need a different type of flooring than a retail establishment or office building. Each flooring option comes with its perks. Let's take a moment to explore the most common options.
CONCRETE FLOORING:
Concrete floors are by far the most common option for steel building owners. Concrete flooring provides a durable surface for high traffic areas in both commercial and residential settings. Damaging the surface of the concrete is nearly impossible. Like poured resin flooring, concrete flooring requires a minimal amount of maintenance.
Concrete floor installation can be completed quickly, and concrete is easy to update if you decide to change your flooring in the future. It's easy to install new flooring over it too. With the right maintenance, concrete floors will stand the test of time. This will save you time and money in the long run and prevent you from having to replace the flooring every couple of years.
LAMINATE FLOORING:
Laminate flooring is an affordable and attractive flooring option for steel buildings. Laminate flooring works best in buildings with workshops or living quarters. This is because laminate flooring should not be used to park or drive on. Laminate flooring is a wonderful option for workshops, retail buildings, and recreational facilities.
WATERPROOF VINYL FLOORING:
Waterproof vinyl is a low-cost option that's great if you're worried about the floor of your building getting wet. Waterproof flooring helps prevent moisture buildup. Waterproof vinyl is handy because the flooring will not expand or contract with humidity. Also, waterproof vinyl is easy to clean since substances sit on the surface of the floors instead of soaking into your flooring.
Vinyl flooring is the least expensive option per square foot and higher-rated wear layers can last for years. Compared to cork flooring and porcelain tile – vinyl tile flooring is a far more economical and practical flooring solution for steel buildings.
NATURAL STONE FLOORING:
Natural stone is a classy and attractive option to add as a finishing touch to your steel building. Natural stone's inherent beauty brings a touch of elegance to retail steel buildings as well as churches and other places of worship. Natural stone is durable but does require a certain level of maintenance to maintain its appearance.
WOOD FLOORING:
Wood flooring is the number one choice for sports and recreational steel buildings, as well as horse barns. Bamboo flooring is an elegant option for living spaces in your steel building, such as pilots' quarters in airplane hangars. Wood flooring can be pricier than the other options mentioned. However, the classic look of wood and low maintenance needs make this option a true contender.
GRAVEL FLOORING:
Gravel is one of the least expensive flooring options on the market for steel buildings. Gravel is only appropriate for certain building applications, such as landscaping equipment storage, tool, and part storage, or workshops. If you are not particularly concerned with having a floor that is level, then gravel is a great choice for your project.
DIRT FLOORING:
We understand dirt flooring seems like an unusual option for a steel building. However, for horse areas and some barns, dirt floors make the most sense. With the proper grading, and potentially additional dirt brought in, dirt floors can be a practical and inexpensive flooring choice for many applications.
CUSTOM METAL BUILDING OPTIONS
With Maverick Steel Buildings, you have a variety of options for your metal building interiors. For more information and inspiration on commercial and residential buildings built with steel and their flooring options contact us.