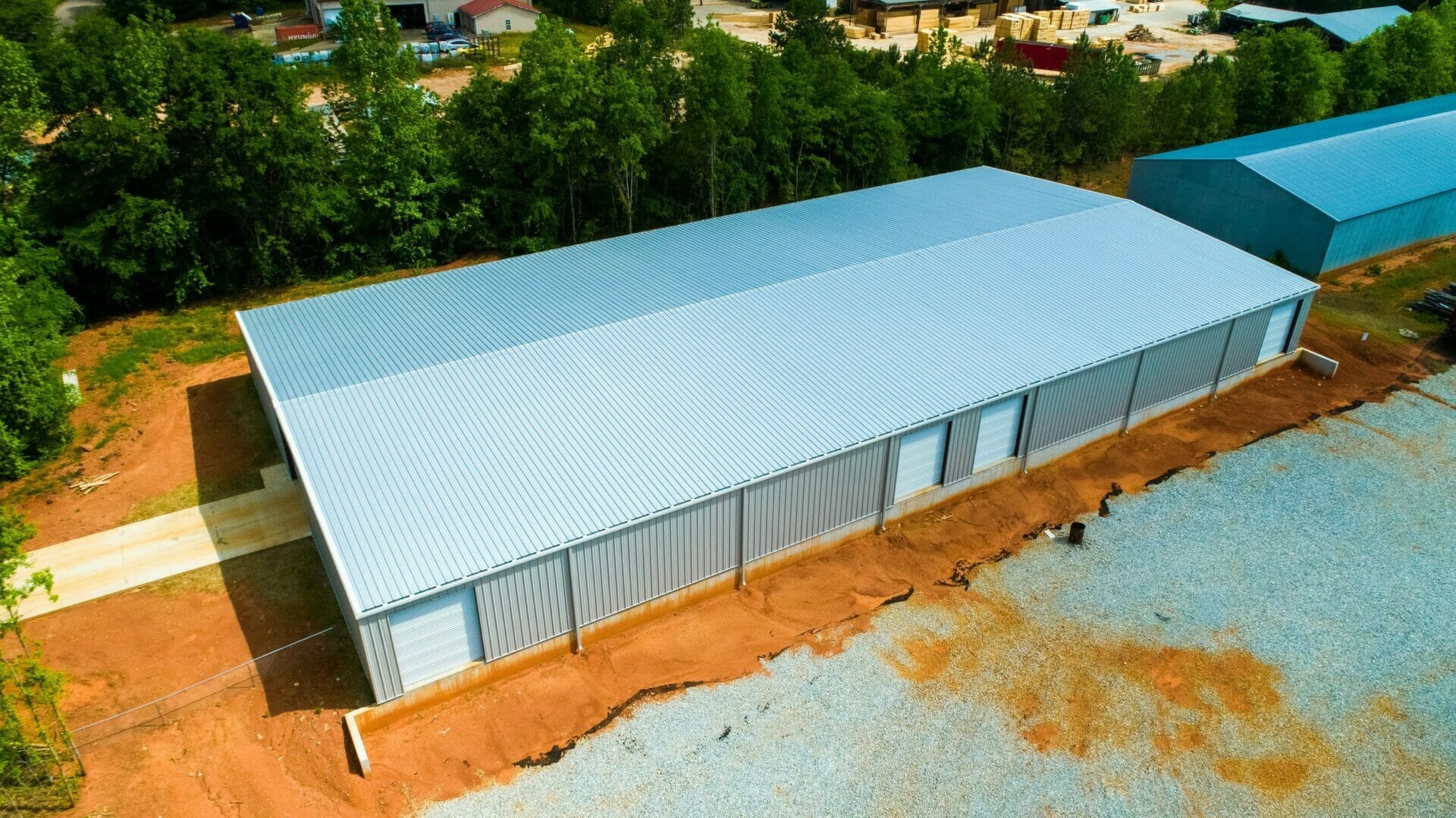 When you choose to install a metal roof in your 100% American steel building by Maverick Steel Buildings, there are some decisions to be made when it comes to your roofing choices. What will work best for your project? A galvanized steel painted metal roof or a Galvalume coated roof.
WHAT IS GALVALUME?
Galvalume is a type of coating consisting of 55% aluminum-zink alloy with silicon that is used to protect steel sheets from oxidation, similar to galvanizing. This sheet steel coating allows metal panels to last decades longer than non-coated metal roofing. This corrosion-resistant metal roofing requires minimal maintenance or component repair for up to 60 years.
WHAT IS THE DIFFERENCE BETWEEN GALVALUME & GALVANIZED STEEL ROOFING?
When comparing different roof finishes, it is clear that there are many advantages and disadvantages to each type. Each steel building is unique and will have different roofing requirements. Let's explore the differences between our coated and uncoated options to help you better decide which one works best for you.
HOW LONG DOES METAL ROOFING LAST?
One thing is for certain, metal roof panels are one of the longest-lasting roofing systems on the market today. Steel that has been galvanized with the hot dipping process can last up to 50 years with regular maintenance. Galvalume metal roofs regularly last over 60 years with minimal repairs and maintenance.
25 YEAR METAL ROOF WARRANTY
Maverick Steel Buildings offers a 25-year warranty on all of the metal roof panels we provide. This means even if you do encounter a problem with your metal roof we've got you covered. It does not matter what style of metal panel roof you choose, we will fix it regardless.
HOW MUCH DOES METAL ROOFING COST?
When considering how much does metal roofing cost for Galvalume steel is priced similar to galvanized steel. However, with our coated galvalume panels you get more bang for your buck since it does not fade like the color on a painted roof does. Metal roofing is generally more affordable than other traditional standing seam metal roofing methods and lasts much longer.
DOES THE COLOR FADE IN THE SUN?
Painted roofs fade much more quickly, but Galvalume keeps its color. Many people recognize this fact, which is why we at Maverick Steel sell more coated metal. People know that their painted roof will fade faster and that they will only have to pay even more to get it repainted down the road.
FARMHOUSE STYLE METAL ROOFS
If you are a fan of the newly back in style farmhouse theme, then Galvalume is a great option for you. The Galvalume look resembles a farmhouse style. Our barn steel buildings truly make this style attainable. Additionally, if you are not a fan of the farmhouse style seen with Galvalume, you can decide on a more traditional style roof and paint it whatever color you want with the painted roof option. There is more to choose from if you decide to paint your roof.
METAL ROOF COLOR OPTIONS
It appears that there are many more benefits of Galvalume than galvanized steel painted roofs. However, painted roofs do offer more color variety than Galvalume roofs. With a painted roof, you can choose a color that matches your home exactly. Because galvalume does not have as many color or style options, if you have a particular color scheme or style then opting for the painted roof may be your best choice.
ONE MAJOR DRAWBACK OF GALVALUME
It is important to know that when galvalume comes into contact with copper and lead as both metals can increase the speed and amount of corrosion in your coated metal roofing. Additionally, this can happen when this coating comes into contact with extremely moist environments such as the crevices causes by wooden roof decking, concrete, and mortar.
SO WHICH ROOFING MATERIAL IS RIGHT FOR YOUR PROJECT?
Both styles have their advantages and disadvantages. If you are on a tighter budget, maybe you should opt for Galvalume. But, if you have more leeway with money and care a great deal about the color of your roof matching your home, you should choose to paint your roof. If you go to Maverick Steel for your roofing needs, you cannot go wrong with either option.