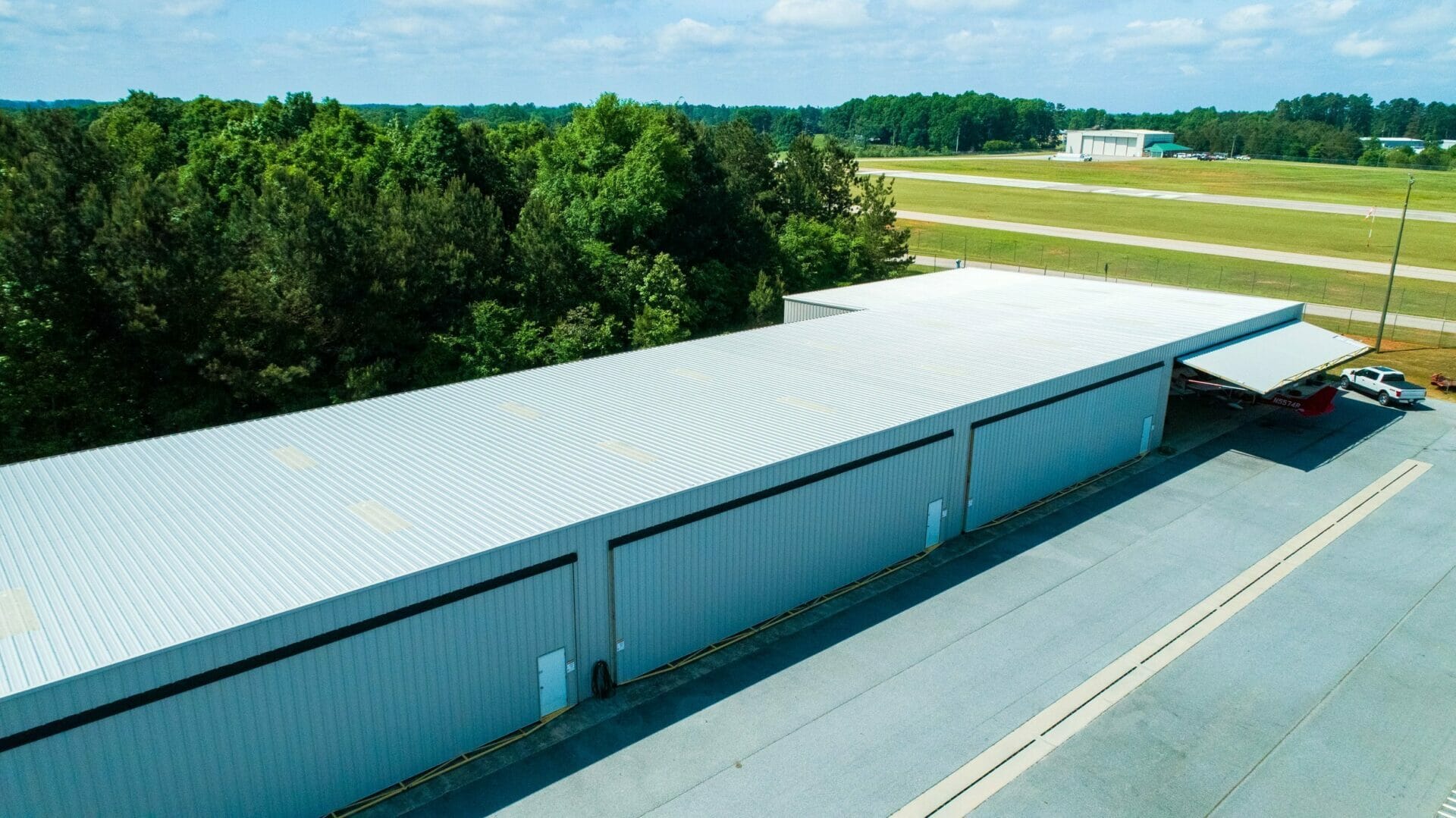 Many Americans are interested in ways they can increase the value of their homes and properties. There are thousands of examples of home improvement projects that can raise your property value to varying degrees. However, an often-overlooked option is adding an additional permanent structure that is both attractive as well as functional. Maverick Steel Buildings provides metal building kits custom-designed to fit your property.
ADD A PERMANENT STRUCTURE TO YOUR PROPERTY
With Maverick Steel Buildings, all of your steel and metal building construction aspirations can become attainable. Not only do metal buildings provide a sleek, industrial look, they can also significantly raise the value of your property. At Maverick Steel Buildings we understand that the value of the property overall is at the forefront of our customers' minds.
ADDED CURB APPEAL WITH MAVERICK STEEL BUILDINGS
With the right landscaping and color customization, our prefabricated steel buildings can seriously upgrade your property's curb appeal. Add style and functionality to your property with our cost-effective custom steel building kits. From workshops and garages to equipment storage and airplane hangars – we've got a building kit that is right for you.
THE VALUE OF STEEL BUILDINGS
Steel buildings can be utilized for a wide assortment of projects in commercial industries and on residential properties. The modern simplicity of steel gives your project a distinctly modern and professional look compared to traditional building designs. Additionally, at Maverick Steel Buildings, the environment is of utmost concern to us.
WE WORK HARD TO ENSURE THAT OVER 25% OF OUR MATERIALS ARE RECYCLABLE.
STEEL STORAGE BUILDINGS & WORKSHOPS
Steel garage buildings have an endless list of benefits. They are easy to maintain, can withstand diverse climates, have incredible curb appeal, and are environmentally conscious. They also cover a range of purposes, from storage units for companies, to car garages for residential properties. Additionally, residential properties with steel garages are proven to bring up property value significantly.
ADDITIONAL SPACE FOR PROJECTS & STORAGE
Metal buildings are great for use in woodworking or welding workshops. This is due to the durability and fire resistance of our 100% American made steel. Additionally, our building kits are perfect for landscaping equipment and farm equipment storage. Find a home for every tool and part so you don't waste time simply searching for what you need.
EXTRA SPACE ADDS VALUE TO YOUR PROPERTY
Extra space, like an attached or detached garage or finished basement, also adds tons of value. This is true for both commercial and residential real estate. A steel building's additional square footage is a cost-effective way to boost your home and property value. Home renovations like updating your kitchen and bathroom's style are a risk because every home buyer's style is different.
THINK ABOUT YOUR RETURN ON INVESTMENTS WHILE SELLING YOUR HOUSE. AN EXTRA 1,200+ SQUARE FOOT OF SPACE TRUMPS HOME IMPROVEMENTS EVERY TIME.
MAKE YOUR UNUSED LAND WORK FOR YOU
Everyone should understand the benefit of passive income streams. If you have an acre or two (or better yet – more) of otherwise unused land – consider starting a mini-storage business. There are, of course, initial investments to be considered. However, this kind of venture can be a great source of income for years to come.
CUSTOM STEEL OUTBUILDINGS TO MATCH YOUR PROPERTY
Pre-engineered steel buildings allow property owners to increase the price of their homes when reselling. A home with a garage, workshop, or even RV storage, can raise the property's overall worth. With Maverick Steel Buildings, matching your new steel building with your project is easy. We have series 200 and 300 signature colors, as well as standard and non-standard colors to choose from.
THE SECURITY OF STEEL
With a residential steel building, one can feel satisfied that their belongings are safely protected. Additionally, our customers know their home will stand out from the rest of the crowd. Because steel is resistant to moisture and rodent damage, the maintenance costs these buildings require are negligible. Maverick Steel Buildings are strong enough to stand the test of time.
OUR 100% AMERICAN MADE STEEL BUILDINGS ARE MADE FROM THE HIGHEST QUALITY MATERIALS.
INCREASE YOUR PROPERTY VALUES WITH A METAL BUILDING
With Maverick Steel Buildings, the possibilities of raising your property's worth are endless. Whether it be for commercial or residential properties, we guarantee to fulfill every customer's request. It is important to us that we create a steady relationship with each customer. At Maverick Steel Buildings, the bond with our customers is just as crucial as the quality of our work.
LEARN MORE ABOUT WHAT MAVERICK STEEL BUILDINGS CAN DO FOR YOU
Reach out to our professionals to learn more about how a steel building kit can increase the value of your property. Our 100% American made steel is durable, affordable, and attractive. Contact Maverick Steel Buildings today!