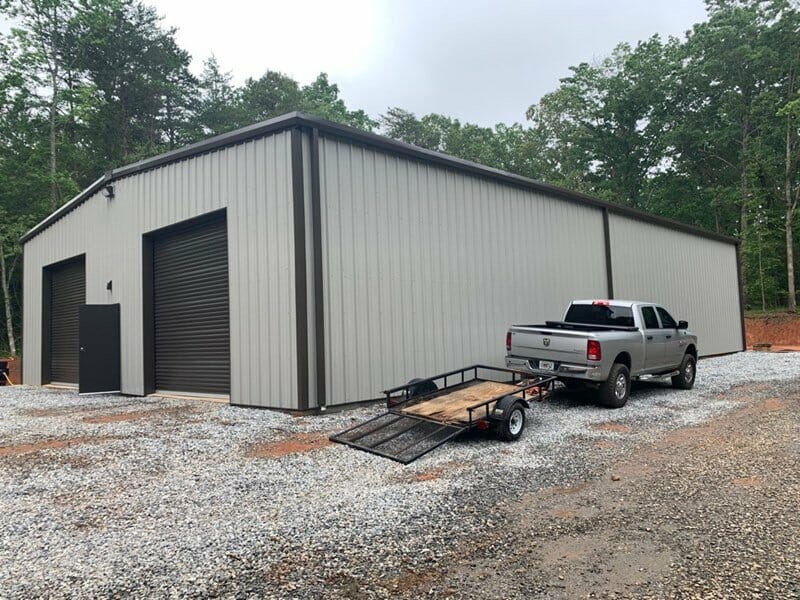 Be it your farm, industry, warehouse, or even your residence, steel garages are a great way to keep your vehicles safe. They offer numerous benefits over other traditional garage buildings.
When it comes to garages, we all think about the inner space, but what about its door? Yes, while installing a metal garage, it is equally important to look into the door size you want, such as standard single or double garage door sizes as well as the type of door.
The standard measurement of garage door height for steel buildings is 7 feet. The width of the garage door depends on the number and types of vehicles. For a single car, the width usually ranges from 7 feet to 10 feet. For two cars, the width range lies between 16 feet to 18 feet.
The height and width of garage doors for steel buildings can be customized to ensure plenty of head room. Besides the size, the types of garage doors should also be kept in mind before installing one.
This blog discusses everything about garage door height and width and its types.
STANDARD GARAGE DOOR SIZES
The standard size measurements of the garage doors depend on the usage. There are different measurements for width and height.
1. GARAGE DOOR HEIGHT FOR STEEL BUILDING
The standard steel garage doors have a height of about 7 feet. However, many garages are now being built to 8 feet high. The 7 foot height is suitable for cars, minivans, or small trucks. To store recreational vehicles, 8 foot tall doors are a good choice.
If you need to accommodate an oversized vehicle, you may need a 10 foot tall door to ensure your vehicle will fit through.
2. GARAGE DOOR WIDTH
The width of your garage door depends on if you're planning for single garage doors or double garage doors. Single garage doors are 8 feet to 10 feet wide. While double garage doors measure between 12 feet to 20 feet, 16 feet being the standard.
For recreational vehicles, a width of about 16 feet is used. However, you should know the exact size of your RV before installing a steel building.
Triple garage doors or multiple garage doors are impractical. To store more than two vehicles, you can use separate bays for each or go for combination garage doors like one single and one double door.
TYPES OF STEEL GARAGE DOORS
There are a variety of overhead doors you can choose from, from your basic model to insulated doors and more. The most common ones are:
1. ROLL-UP DOORS
These doors are 2 to 3 inches steel slat sections that roll up into a curtain roll on top of the door opening. Places with less ceiling space use roll-up doors. These doors provide maximum height and width.
Roll-up doors are heavy-duty in nature and are preferred for commercial applications rather than residential ones.
2. SECTIONAL DOORS
These doors are usually divided into four or five sections or panels that follow the garage ceiling line. These panels are attached with hinges that bend over a curved track while opening.
These steel doors are low-maintenance, can be easily customized to add windows, colors, or texture, are low in cost compared to roll-up doors, and therefore, are a preferred choice for most Americans.
3. TILT-UP CANOPY DOORS
These doors are not divided into sections or panels. They are one solid piece that stands parallel to the roof of the garage. When the door is opened, it protrudes from the front of the building.
4. TILT-UP RETRACTABLE DOORS
Similar to a tilt-up canopy, these doors are one solid piece and stand parallel to the ceiling. These do not extend past the house when opened.
5. SIDE-HINGED GARAGE DOORS
These are typically made from wood, but for commercial use, galvanized steel doors are also available. These are classic doors that swing open outwards and do not occupy any space within the garage. They are gaining popularity because of their simple mechanism and longer life.
USES OF STEEL GARAGES
Steel garage kits are getting more popular because they are quick to install, cost-effective, and last longer than wood.
Steel garages have multiple uses such as:
Warehouse
Studio
Home Office
Man Cave or a She Shed
Guest House
Garage Apartment
Personal Shop
Manufacturing Buildings
Auto Shops
Storage Buildings
And more
Whether you are looking for commercial or residential garage doors, you can get a quote from Maverick Steel Buildings. We are a leading name in providing metal building kits that are flawlessly tailored to match your needs.
PRO TIP – DON'T FORGET THE ACCESSORIES – YOU'LL WANT TO ACCOUNT FOR EXTRAS SUCH AS A GARAGE DOOR OPENER TO AUTOMATICALLY OPEN AND CLOSE YOUR GARAGE.
STEEL GARAGE DOOR HEIGHTS
The standard garage door height for steel buildings is 7 feet which can be customized as per your needs. The width depends if it's a single or double-car garage door.. Standard width measurements are 8 feet and 16 feet, respectively. Different industries use different types of steel garage doors that fit their needs.